SaddleGel Pillow Top Gel Pads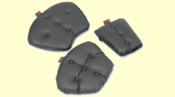 Saddlemen™ Pillow Top SaddleGel™ Pads have a nostalgic button-tufted style.
They feature an extra-soft layer of pillow foam on top of Saddlemen's famous SaddleGel™.
Quick-disconnect harness system mounts over the seat and remains in place when pad is removed.
Features non-slip underside.

These comfortable, strap-down gel seat pads look perfect on top of most cruisers.

Available in three different sizes, to suit almost any motorcycle seat, or many other surfaces.


Show 1 to 3 (from a total of 3 products)