SaddleGel Soft Stretch Gel Pads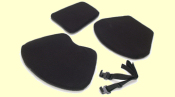 Saddlemen's original soft-stretch cover maximizes SaddleGel™ efficiency, and features a non-slip underside.
Quick-disconnect harness system mounts over the seat and remains in place when pad is removed.
Stretchable "Spandura" cover adds to comfort and gel pad performance.

Available in three different sizes, to suit almost any motorcycle seat, or many other surfaces.


Show 1 to 3 (from a total of 3 products)