SaddleGel Raw Gel Pads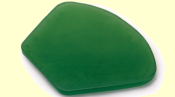 Make any motorcycle seat into a SaddleGel seat. Install this pad under the cover of your seat to give you all-day comfort.

Visco-elastic SaddleGel adds riding comfort to any seat on any model.

Note: Actual pads are clear.
Green colour was used for illustrational purposes only!
Show 1 to 3 (from a total of 3 products)