SaddleGel Sheepskin Gel Pads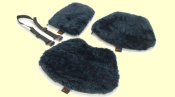 Synthetic sheepskin cover softens your ride, is cool in summer and warm in winter - an excellent compliment to SaddleGel™ support and comfort.
Quick-disconnect harness system mounts over the seat and remains in place when gel pad is removed.
Pad also features a non-slip bottom.

Available in three different sizes, to suit almost any motorcycle seat, or many other surfaces.


Show 1 to 3 (from a total of 3 products)