Seat Upgrades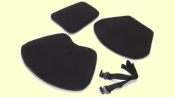 Saddlegel™ Comfort Pads make any motorcycle seat into a touring seat.
A state-of-the-art material, brought over from the medical industry, that will never freeze, crack, dry out, leak or melt.
Saddlegel™ is designed to evenly distribute a rider's weight across the full surface of the pad, eliminating annoying pressure points and "hot spots" for uncommon comfort.
Our gel pads also provide excellent shock adsorbtion and insulation from vibration.
Saddlemen™ gel pads are available in a variety of cover types and sizes to fit most touring motorcycles, sport bikes, cruisers and even off-road bikes and ATVs.

The easiest way to get the comfort benefits of Saddlegel™ technology is to strap one of our pads onto your existing seat.
Your ride will be much nicer, so you can spend more time on your bike.
These gel pads are proven by tens of thousands of satisfied motorcycle and other powersport riders worldwide for almost two decades!

Due to the nature of these products, and how they are used, Saddlegel™ Comfort Pads, much like many types of clothing, are not returnable and all sales are final.